Your event or function will be enjoyable, memorable, and unique with LINCOLN FOR THE AGES. Have the President mingle with your crowd, offer a program like those described below, or develop your own program.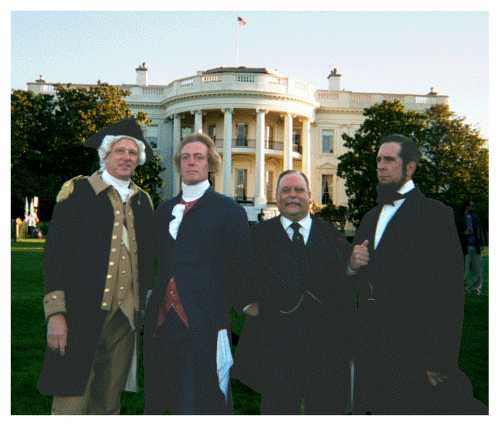 Mt. Rushmore Presidents, 2000 Easter Egg Roll, The White House, Washington, DC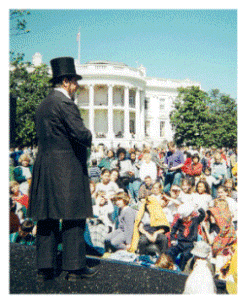 THE WALK-ABOUT
The Walk-About is popular at conventions, fairs, pageants, and the annual Easter Egg Roll at the White House (left). President Lincoln walks about the site, greets the public, poses for pictures, and engages guests in conversation.



SPEECHES & LECTURES
LINCOLN FOR THE AGES offers original Lincoln works, composite speeches, and custom speeches. General speeches cover a variety of topics of concern to the Lincoln Administration. A speech can be short - The Gettysburg Address (three minutes) - or thirty minutes or more.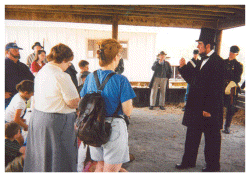 THE PRESS CONFERENCE
The Press Conference engages the audience in role-playing. Mr. Lincoln may set the stage with a few remarks about the difficulties of the administration of a country at war. Invite local historians to attend with prepared questions. Invite local media to cover the conference. Invite the public to attend and pose questions as well. In schools, this is a favorite way to conclude the Civil War Day programs. At right, President Lincoln outlines the progress of the War to visitors at Steppingstone Museum in Havre de Grace, MD.


THE DEBATE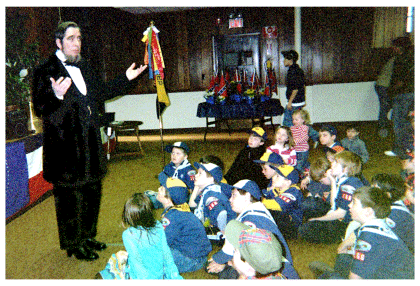 The Debate is well-suited to the more advanced history study group, usually high school, college, and adult education classes, who debate complex political issues of the 1860s with the President.


QUESTION-&-ANSWER
This is a much less formal program than the press conference, debate, or speech. Mr. Lincoln usually makes a few remarks, five to ten minutes, then opens the floor to questions. This is a favorite with schools, especially as the President relates stories to the students about his youth, his path to the Presidency, and life in the White House. Favorites among students are stories about Lincoln's sons Willie and Tad, and their pet goats which often had the run of the White House. At left, the President addresses Cub Scout Pack 166 of Easton, CT.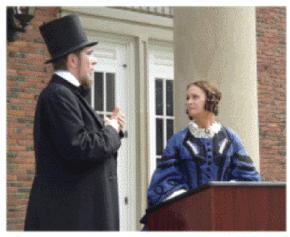 THE WORKSHOP
If you are booking more than one presenter, organize your audience into small groups, which rotate from presenter to presenter, each presenter operating a "workshop". Workshops might include an interview with the President, a recruiting station to register and drill raw recruits, or Harriet Tubman telling stories about The Underground Railroad.


THE SCENARIO
Two or more presenters interact in a planned scenario. Lincoln and Stephen Douglas debate abolition versus the expansion of slavery. Lincoln and wife Mary plan their return to Illinois after the presidency. Lincoln and Frederick Douglass discuss issues of concern to black Americans. At right, Lincoln and Harriet Beecher Stowe discuss Uncle Tom's Cabin as one catalyst that instigated the outbreak of war.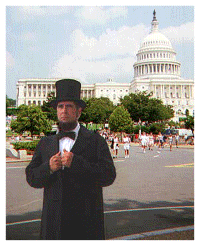 DINNER AT THE WHITE HOUSE
For your convention, dinner, ball, or fund-raiser, transform an ordinary meeting hall into a White House dining room with bunting and table linens. Place the first eight or ten reservations at the head table with President Lincoln. We also offer a smaller luncheon with President Lincoln, for which seats can be raffled off, with period menus. Authentic recipes are available for your caterer or chef.



WASHINGTON CIVIL WAR HISTORY TOUR
For an unusual perspective of Washington, D. C., bring President Lincoln right onto your sight-seeing tour coach and check out both popular and little-known sites in the city as Lincoln knew it.




CIVIL WAR REENACTMENTS & LIVING HISTORY EVENTS
For field events, LINCOLN FOR THE AGES provides not only President Lincoln, but also can set up a fully authentic camp: tents and flies, flags, a field office, camp furniture, cooking gear, bunting, and so forth. In-camp activities featuring President Lincoln include:

Lincoln Reviews The Troops in a dress parade, an impressive ceremony that troops the colors with music.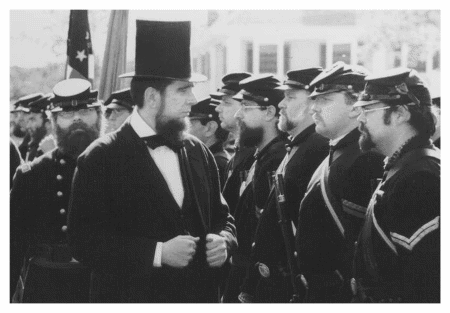 Lincoln Tours The Camps, engaging the soldiers informally on an individual basis.
Lincoln Lunches With Local Dignitaries or with sponsors of the event.
An Audience With The President sets aside time for spectators to visit Lincoln one-on-one.
Period Scenarios, spontaneous or planned, between President Lincoln and other reenactors who portray diplomats or foreign visitors allow spectators to eavesdrop on 1860s political conversations.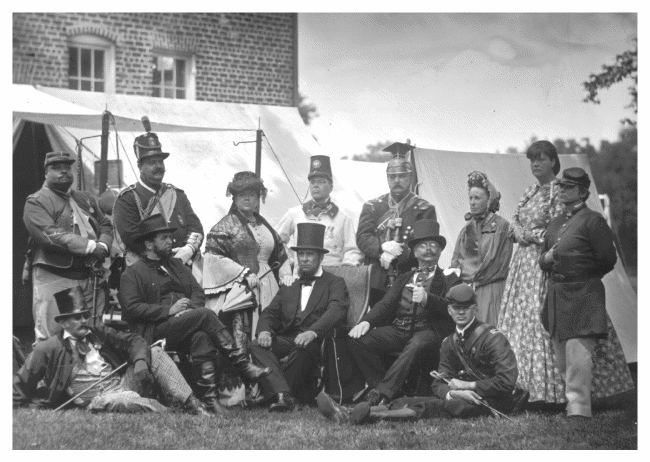 A Photo Session gives families the opportunity to take pictures with the President.
Lincoln Meets At Headquarters with the commanding officer to discuss military issues.
A Press Conference or Speech is popular with spectators, with time for questions and answers.
A Horse-Drawn Carriage to transport President Lincoln adds to your event's overall period atmosphere.



PARADES
President Lincoln participates in parades for the Fourth of July or other celebrations. Plan for fife-&-drum music, a military color guard and a horse-&-carriage rig to complete the effect.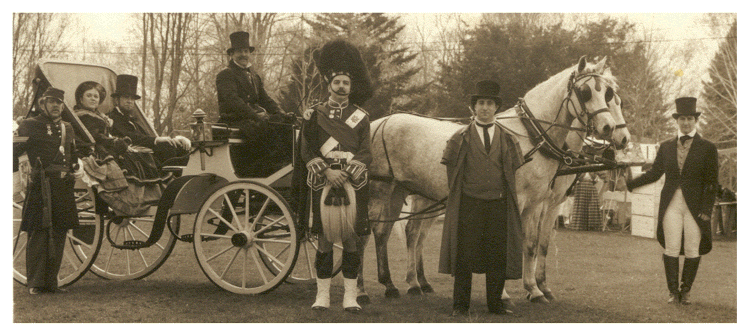 OTHER PRESENTERS
LINCOLN FOR THE AGES works with reenactors and presenters who portray Lincoln contemporaries. We know quite a variety of other presenters who portray specific historical characters, from the Civil War and from other historical periods. One of these is Lincoln's wife, Mary Todd Lincoln, highlighted below.